Ice Cream Roll Premix is to use with Ice cream roll machine. It's a simple recipe and smooth texture makes it more likely to use for ice cream rolls. It saves a lot of time and keeps your kitchen mess free. We supply ice cream roll premix all over India.
Its key ingredients are milk powder, sweeteners or sugar, natural flavors like vanilla and natural stabilizers.
Click on, ice cream roll premix recipes, to know more about its flavored recipes.
---
How to use ice cream roll premix?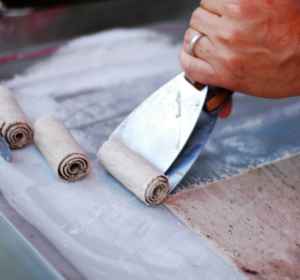 Our premix is very easy to use. It can be mixed in cold milk very easily. This makes it very convenient to use.
Ingredient required: Full cream milk (cold and preferable homogenized), Premix
Steps (Full packet)
Tap premix packet a little and cut open.
Add 4 to 4.5 liters of cold full cream milk.
Mix using hands or hand blender. Mix well to dissolve fully. Mix base atleast 15 min in advance for best result.
Keep the base in the refrigerator at 4 ºC. This help it to keep it fresh and consistent. Time to make ice cream is also reduced if the base is cold.
Discard mix after 12 hours
In case you need to you need lesser base then mix cold milk with premix proportionally, for example, you can add 125 grams base for 1/2 liters of milk.
In case you are partially using the premix from an opened packet, keep the remaining packet in an airtight container.
---
Price of ice cream roll premix
The price of ice cream roll premix is 200 Rs./Kg + GST. We have special offers for bulk orders and premix dealers. For pricing and delivery related queries please get in touch with us.
The premix is available for delivery all over India.
Packing of ice cream roll premix
Ice cream roll premix is vacuum packed in multi-layer packing. This packing increases the life and freshness of the premix.
Vacuum packing can cause caking it is advisable to tap the packet thoroughly before opening.